Influenza Vaccination Program
What is Influenza? ("FLU")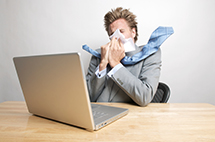 Influenza (or "flu") is a viral infection of the nose, throat, bronchial tubes, and lungs that can make someone of any age ill. The flu occurs in the United States from approximately November to April. Flu symptoms include fever, chills, cough, and soreness of your back, arms, and legs. Although most people are ill for only a few days, some persons develop a much more serious illness and may need to be hospitalized. On average, thousands of people die each year in the United States from flu related complications.
The influenza vaccine is safe and effective. Persons should be vaccinated every year. You cannot get the flu from the vaccine. The vaccine will begin to provide its protective effect about one or two weeks and immunity may decrease organized vaccination campaigns is usually the period from mid-October through mid-November.
Come to our office, or we can come to yours. For additional information, or to arrange for on-site group immunizations please contact our office.